Coca-Cola Display Fridges (Coolers) – Excellent Promotional Solution
We provide custom-branded display fridges for Coca-Cola (Coke) and the other most famous soft drink brands in the world. It's a perfect marketing solution to help boost beverage sales for retail and catering businesses.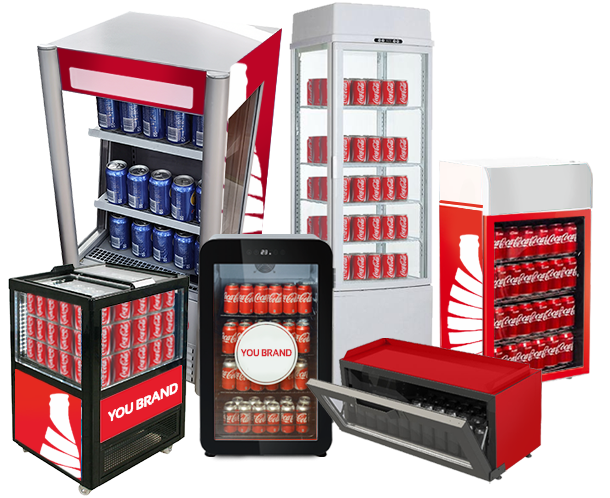 Coca-Cola (Coke) is a famous carbonated beverage in the world, it was found in Atlanta, Georgia, United States and has a history of more than 130 years. Since then, Coco-Cola has been interacted with social development and inspired by social innovation. It was one of the co-organizers of Emory University. Every day, Coco-Cola brings a wonderful experience of refreshment to people all around the world. Entering the 21st century, there are 1.7 billion people in the world drinking Coca-Cola every day, and about 19,400 drinks are served every second. In October 2016, Coca-Cola ranked third among the world's 100 most valuable brands in 2016.
Although Coco-Cola is the renowned brand and most popular soft drink in the world, having a display fridge with red logo and branded graphic of Coca-Cola is an excellent solution for its resellers or distributors to improve promotion, it's a special way to attract consumer's attention to get ice-cold Coke drinks, both the drinks and display fridges make customer deeply impressed.
What We Do For Custom-Branded Fridges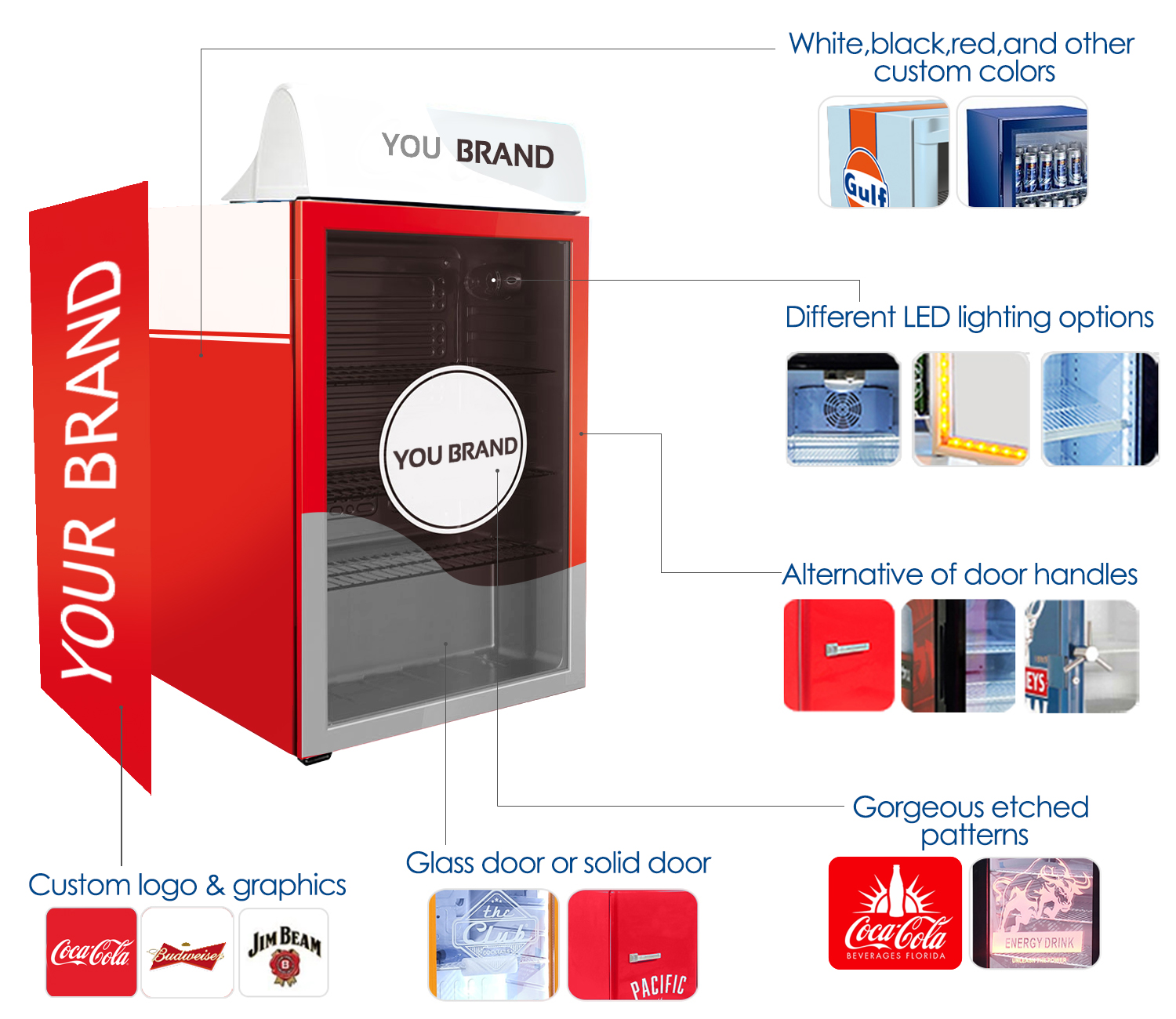 Nenwell offers a variety of customized and branded solutions that are specialized for Coke and many other branded soda drinks and beverages. There are some optional components and designs are available to meet different specific requirements, such as surface colors & finishes, logos & branded graphics, door handles, door glass, shelf finishing, temperature controllers, locks, and so on. All units can withstand the rigors of routine use for retail and catering businesses to maximize utilization and minimize maintenance due to technical problems. Our custom display fridges are designed with a stunning branded image and make drink items within "Grab & Go", suitable for so many commercial purposes such as instant consumption, impulse purchase, and beverage promotion.
Our Coke display fridges come with outstanding features to maintain optimal temperatures and provide a perfect storage condition, which can meet the technical standards that beverage companies require. Our refrigeration products perform well at refrigeration, efficiently and quickly cool down the drinks to meet customers' immediate consumption requirements. Additionally, all our refrigeration units provide retailers and franchised stores with value-added solutions for consistent merchandising, better brand awareness.
What Types Of Fridges Can Help Increase Impulse Sales For Your Coca-Cola
At Nenwell, the display fridges come in an extensive range of styles, capacities, and sizes, they all have a unique and stunning design, there must be a perfect one for your retail and catering businesses, such as convenience stores, clubs, snack bars, franchise stores, etc. It's a unique and innovative manner to display drink and food items, making your products stand out in the crowd.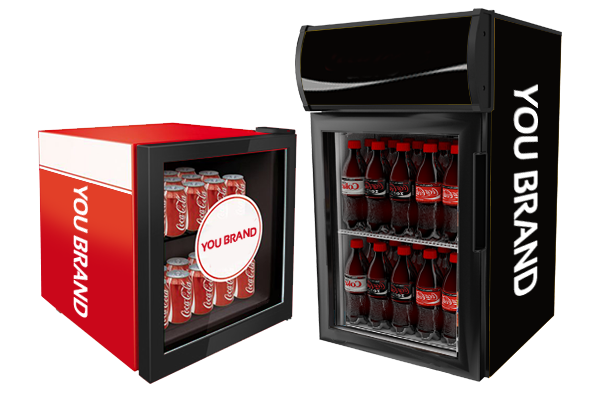 Countertop Mini Fridge
These countertop display fridges with small sizes are ideal to be placed on the counter or table for retail or catering businesses to sell beverages, particularly for businesses with limited space. Different sizes and capacities are available for different business needs.
The surfaces and glass doors of the mini fridges can be overlaid with stunning branded graphics for some famous beverage brands to increase attractiveness & impulse sales.
Temperature range from 32°F to 50°F (0°C to 10°C).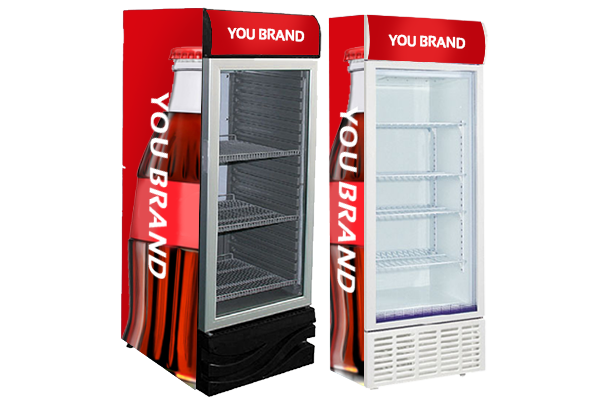 Upright Display Fridge
The excellent cooling system maintains constant and most proper temperatures to hold your soda and beer with their optimal flavor and texture.
These upright display fridges provide wide options available to meet different needs, they are perfectly used as beverage showcases for convenience stores, supermarkets, restaurants, etc.
Insulated glass doors are super clear, and the LED interior lighting help highlight your stored items to draw consumers' attention.
Temperature range from 32°F to 50°F (0°C to 10°C), or customizable.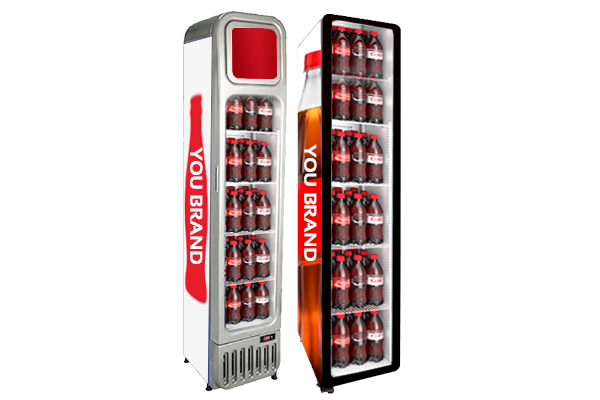 Slimline Display Fridge
Skinny and tall design is an excellent solution for businesses with limited space, such as convenience stores, cafeterias, snack bars, and so on.
Outstanding refrigeration & thermal insulation helps these skinny fridges store soft drinks with optimal temperature.
These slimline fridges come with a custom logo and graphics, that will make them more fancy and impressive to attract the eyes of your customer.
Maintain the temperatures in a range from 32°F to 50°F (0°C to 10°C).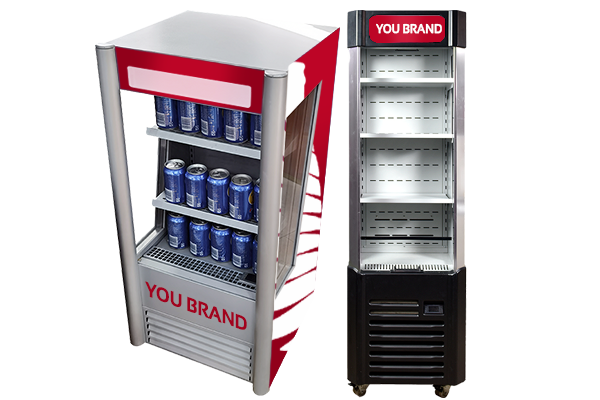 Air Curtain Fridge
These air curtains come with an open front design without doors, which provide a grab & go self-service solution for catering or retail stores with heavy customer traffic.
The refrigeration system performs high-speed cooling and allows the staff restocks beverages frequently.
LED interior lighting provides high brightness to highlight the refrigerated contents, and colorful LED lighting strips are optional to provide these fridges with a sense of fantasy.
The temperature range is between 32°F and 50°F (0°C and 10°C).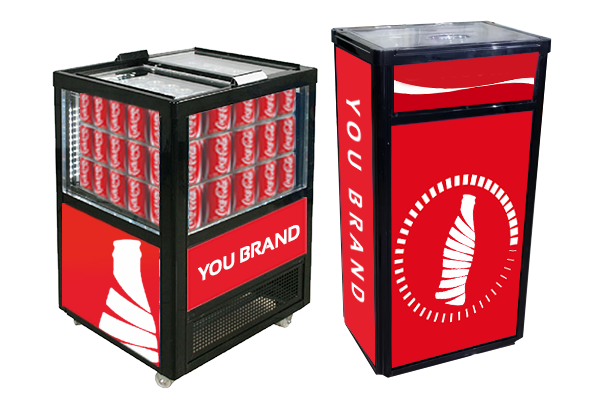 Impulse Cooler
Performs fast cooling to allow restocking beverages frequently.
A unique design and innovative technology, and four casters make them easy to move anywhere.
Super clear glass top lids come with a sliding opening design and allow two-side open. The storage compartments are divided into two parts that can help organize the items in order.
Temperature range between 32°F and 50°F (0°C and 10°C), or customizable.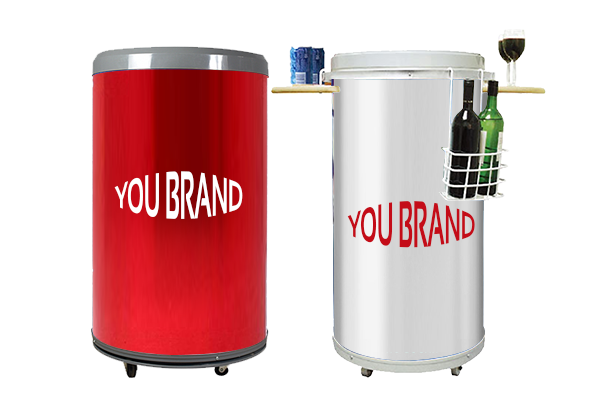 Barrel Coolers
These stunning coolers are designed like a beverage pop-top can, they have some casters that allow being flexibly moved anywhere.
They can keep your soda and beverage cool for several hours after unplugging, so they are ideal for outdoor B.B.Q., carnival, party, or sports events.
Glass lids and foaming lids are available, they come with a flip-flop opening design and allow two-side open. The storage basket with divided compartments to help organize the items in order.
Maintain the temperatures in a range between 32°F and 50°F (0°C and 10°C).
All these Coke display fridges use eco-friendly HFC-free refrigerants and high-performance refrigeration components, which help you greatly maximize operation efficiency and minimize energy consumption. They all have LED interior lighting and glass door with logos and branded graphics, which can effectively highlight your fridges and drink items to draw attention from consumers to stimulate their impulse buying intention and help retailers increase their sales for beverage items. These Coke display coolers are constructed with foam-in-place polyurethane and dural-layer glass to keep provide the units with excellent thermal insulation.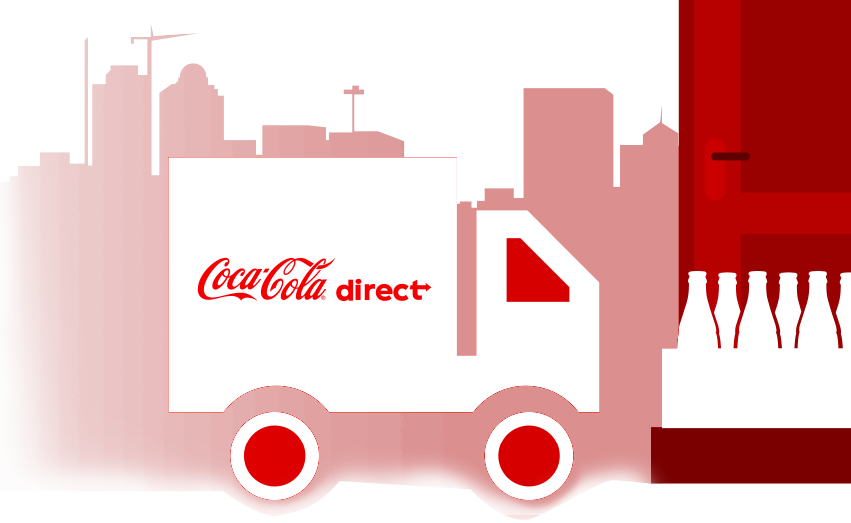 Products & Solutions For Refrigerators And Freezers