Back bar coolers are also known as back bar fridges, which are a mini type of drink display refrigerators. It is usually counter height that could go with bars, restaurants, and other commercial vibe. This commercial grade fridge provides a great way to store and display cold beers, bottled drinks and beverages. There are numerous options to suit your business requirements, you can choose a unit with single door, double doors or triple doors according the capacity that you need to store you items. Drink display fridge with swing doors allows to completely get access to all of your storage sections, but you need to be sure of that there is sufficient space in front of the doors to open it, and fridge with sliding doors are a perfect refrigeration solution for stores and business areas with limited space, but the doors can not be opened totally. Back bar coolers (back bar fridge) with glass doors is a great option if you would like to display the contents that you merchandise, with interior LED lighting, it can easily attract the eyes of our customers to your drinks, fridge with solid doors have better performance at thermal insulation & energy-saving, but conceal the stored contents and looks simple in appearance.
---
---
Back Bar Coolers
It's perfect to be placed under or on the bar counter where the bartenders are working around, so these back bar coolers allow the staff to easily grab and serve the drinks or beer to customers. There are a variety of styles and storage capacities to perfectly suit your requirement. For small size single glass door beverage display fridges and solid door beer fridges to large dual or multi-door display fridges to fit your bar or catering business.
Mini Drink Display Fridges
If you need a fridge that can perfectly be placed anywhere you want in your limited space, mini drink display fridges must be the ideal solution for your need, as they are specifically designed with compact size to be properly put in a small bar environment, and they come plenty of capacity for storing an adequate quantity of beverage and beer.
These mini fridges are commonly utilized for commercial applications, so most of them come in feature of frost-free as they have an auto device for defrosting, so they can help prevent the refrigerated items from being frozen, and you don't have to spend time manually removing the built-up ice, furthermore, without the accumulated ice on the evaporator coils, your refrigeration unit won't overwork to cause more power consumption.
The durable shelves are made of stainless steel wires and orderly organize your stored items inside. With the LED interior lighting, your cold drinks available in the fridges are highlighted to attract the eye of your customers. These mini coolers are simple to clean as the shelves are removable.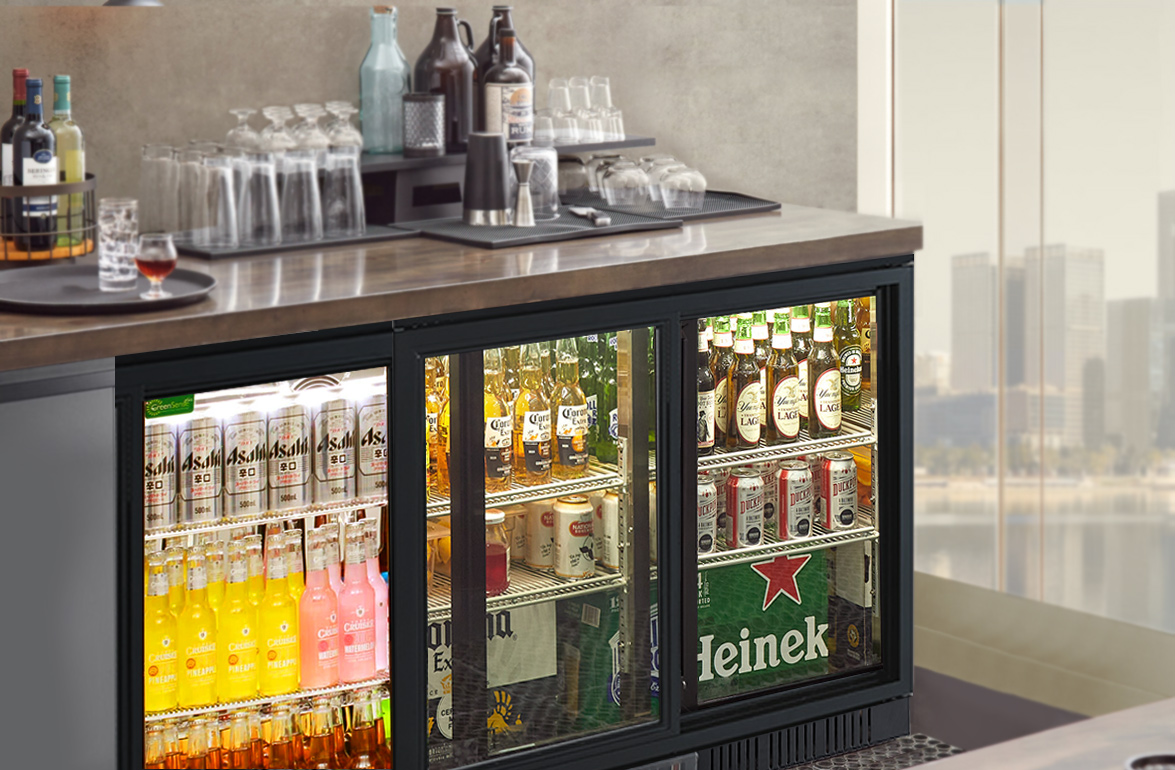 What Do You Need To Consider When Purchasing A Back Bar Fridge
However, you need to consider some things about the right mini bar fridge you will purchase for your business, as there are a variety of styles and sizes that you could find anywhere.
Models with larger sizes and more storage capacity are certainly the ideal choice for serving cold drinks and beer, but they are more expensive than mini types, and you need to ensure that your fridge can fit the space of placement and not cause an impact on your utility.
With mini size, you don't need to pay as much money as larger types of commercial refrigerators, so it's a cost-effective option. However, if you have to serve drinks or beer in an enormous quantity, to ensure that the quality of your supplies is consistent, a mini fridge may not meet your business requirements.
These mini glass door fridges are being used by many bars and other catering businesses because of their outstanding features. Most of them come with clear glass door(s) that allow the customers to browse what is available in the fridge.
In addition to the cost of purchasing a fridge, you ought to consider whether it comes with some highlights that can help save money and effort on your daily use and maintenance.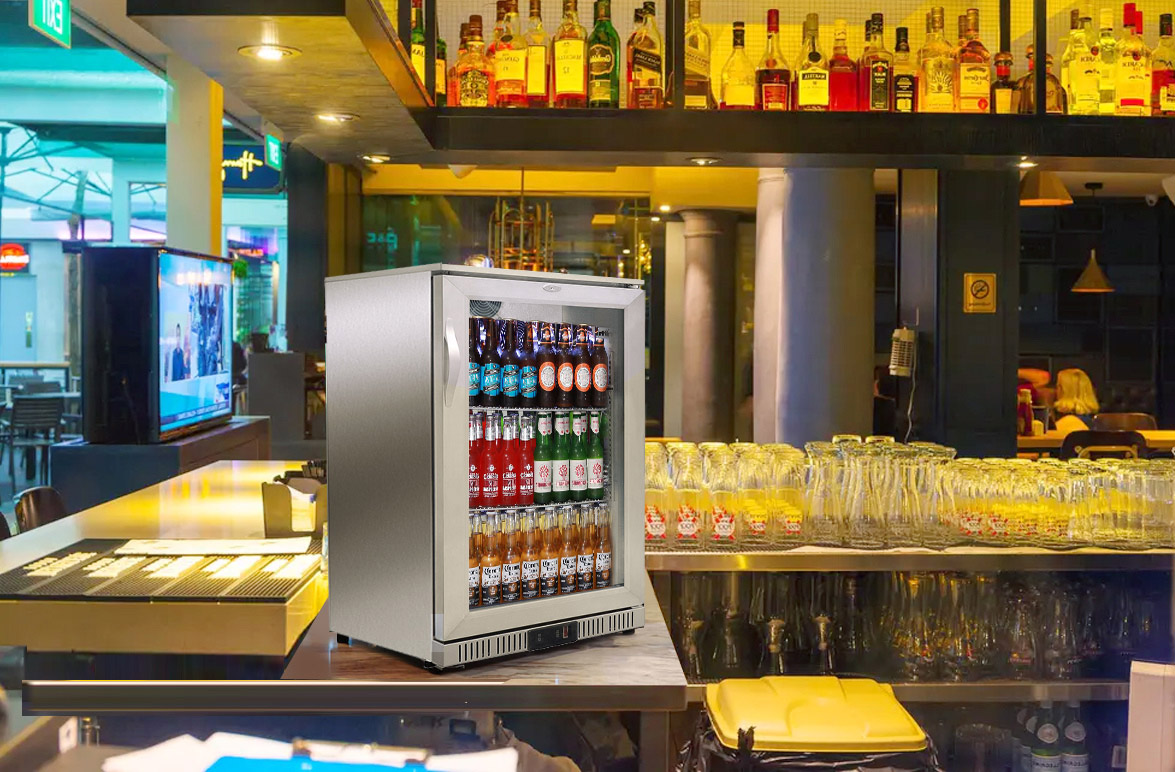 The Benefits Of Back Bar Fridge (Cooler)
The back of the bar is the area with a lot of foot traffic, and it's where the bartenders frequently move up and down to serve their beer or beverage to the customers. But such a busy area is ordinarily narrow and tight just like an aisle, to ensure customers can be served as quickly as possible, bartenders need to optimally utilize the working area, so a mini back bar fridge is an ideal solution for them to save much space as it can be easily placed under the bar.
The area behind the bar needs a mini back bar cooler to ensure bartenders have more space to move and work. Additionally, the cooler needs to have sufficient capacity to store their drinks and beer to reduce the additional effort to refill the fridge. Most back bar coolers are designed with glass door(s), so customers can easily browse what's inside and quickly decide what's they want, and bartenders can quickly know when is the time to restock.
---