Ideal Way To Promote Famous Ice Cream Brands
We specialize in custom-branded freezers for Haagen-Dazs and the other most famous ice cream brands in the world. It's a great solution for franchise stores, convenience stores, cafes, and concession stands to serve ice cream.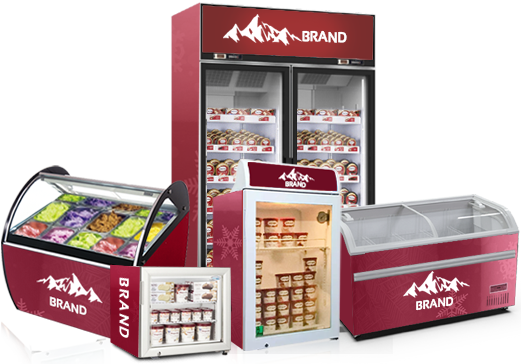 Ice cream is a favorite and popular food for people of different age groups, so it is commonly considered as one of the main profitable items for retail and catering businesses. As we know that ice cream needs to be frozen to keep it in solid form and fresh all the time, such a frozen dessert usually contains some dairy products like milk and cream and combined with fruit flavors, yogurt, and other ingredients which are perishable, it's easy to cause to adverse effects in taste and texture of ice cream if stored at a lower temperature, or easy to melt and soften at a higher temperature, all these would definitely ruin consumer's experience. So for the purpose of ensuring your customers enjoy your ice cream with the best taste and texture, you need to invest in a proper ice cream freezer to store your ice cream in an optimal condition at precise freezing temperatures & humidity. In addition to storage purposes, some commercial freezers also can be used as a showcase to display ice cream, especially for supplying famous brands like Haagen-Dazs, a custom-branded ice cream freezer that can greatly help catch the attention of your customers and boost your sales. 
Things To Consider When Choosing A Ice Cream Freezer
As mentioned above, choosing a proper freezer is very essential to keep your ice cream fresh to taste with the best flavor and texture, as there are some specific storage conditions that are required for different types of ice cream. To ensure you are serving or supplying the ice cream with the best quality, you need to take some other factors below into consideration.

What Types Of Freezers Can Help Promote Your Branded Ice Creams
Below are some examples that we have customized for some franchisers and wholesalers of famous ice cream brands. We can help customize the freezers with something special to highlight your brands or to meet your business requirement, all these freezers can go with some custom styles, parts, or accessories. At Nenwell, we can make the ice cream freezers with your branded logo and artwork design, or even if you don't have anything ready to go, it doesn't matter, we have a design team to help you make it out.
These freezers with small sizes are great to be set on the countertop for retail or catering businesses to sell ice cream, particularly for stores with limited space. Different styles and capacities are available.
The surfaces of the freezers and glass doors can be overlaid with fancy branding graphics of some famous ice cream brands to increase customers' impulse buying.
Temperature range between -13°F and -0.4 °F (-25°C and -18°C).
These countertop display freezers have a lightbox on top to display branded logo of Haagen-Dazs and other famous ice cream brands and make the fridges look more attractive, and surfaces of freezers can be overlaid with your graphics to increase brand awareness.
Different models and capacities are available, these fridges with small sizes are suitable to place on the countertop of cafeterias and convenience stores.
Temperature range between -13°F and -0.4 °F (-25°C and -18°C).
Perform well at freezing and maintain constant and optimal temperatures to hold your ice cream and frozen foods with their best flavor and texture.
These upright display freezers provide wide options available to meet different requirements, they are perfectly used as ice cream showcases for supermarkets, convenience stores, cafes, etc.
Super clear insulated glass doors and LED interior lighting help highlight your frozen products to draw consumers' eyes.
Temperature range between -13°F and -0.4 °F (-25°C and -18°C), or customizable.
Skinny and tall design with large capacity is an ideal solution for stores with limited space, such as snack bars, cafeterias, convenience stores, etc.
Excellent freezing performance & thermal insulation helps these slim freezers hold ice cream with accurate temperature.
If put the logo and branded graphics on these slimline freezers, that will make them more fancy and impressive to draw attention from your customer.
Maintain the temperatures in a range between -13°F and -0.4 °F (-25°C and -18°C).
With super clear tempered glass sliding top lids, flat and curved designs are available.
Horizontal design allows customers to easily overlook and get access to the ice creams.
The storage baskets inside help orderly organize your frozen products, people don't need to spend much time to find what they want.
Temperatures range between -13°F and -0.4 °F (-25°C and -18°C), or as your requirements.
These ice cream display freezers are designed with multiple pans to hold various flavors for different needs.
The horizontal placement allows people to easily view all the flavors in the pans.
Outstanding performance at freezing and thermal insulation help these showcases hold ice cream and gelato with optimal temperature.
Hold the temperatures in a range between -13°F and -0.4 °F (-25°C and -18°C).
Products & Solutions For Refrigerators And Freezers